The women in same-sex relationships who turn to IVF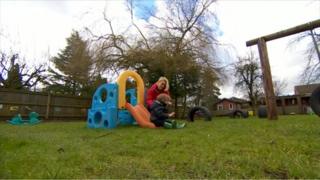 For as long as she can remember she wanted to be a mother, and now Maxine is one of a growing number of women in a same-sex relationship who have turned to IVF to make this a reality.
For as long as I can remember I knew I wanted a child.
As I got closer to my 30th birthday that desire became stronger.
By the age of 33 I had been in a settled relationship for some time and felt like I was ready.
It was something I considered very carefully.
Being in a same-sex relationship there are of course fewer options, and so I decided that IVF was the best way for me to start a family.
I am one of a growing number of women who have turned to IVF to have a child.
Figures from the Human Fertilisation and Embryology Authority show the number of IVF cycles in Wales involving women in same-sex relationships and single women in 2013 had doubled to nearly 300, and the figure for 2014 is expected to rise again.
Now one in every 10 IVF cycles uses a donor, and a third of all patients having treatment using donor sperm are either single women or women in same-sex relationships.
The total number of women in same-sex relationships having children is difficult to measure as many other women have chosen other methods of having a child, or go outside Wales for private treatment or overseas.
For me, I was aware of the various methods that same-sex couples use to have children, and my partner Morfudd and I decided that using an unknown donor would be the best option for us.
I went through a cycle of IVF using an unknown donor sperm from America, and just over two years ago my son Iori was born.
Iori is part of a growing group in society and, since having a baby, we have met many other same-sex couples who have decided to do the same.
Bethan Marlow and her partner Carolina from Cardiff have a nine-month-old son called Celt through IVF.
She said: "It has been extremely accessible and easy to find the clinic. Once we were there they were amazing, we were always treated as something that was accepted and great and not a special case in any way. It has always been something that is completely normal."
The London Women's Clinic say lesbian couples now make up at least 50% of all their patients in Cardiff, while at the London branch of the clinic this figure is 60%.
Consultant gynaecologist Peter Bowen-Simpkins, medical director of the London Women's Clinic, said: "We see an awful lot of lesbian couples here, they are very happy and they are very secure and interestingly the psychological studies looking at the children born of lesbian couples show that their children are no different from any other. Single women particularly are totally accepted."
Some couples choose to use a known donor, and some even have a situation where the donor is involved in the child's life.
Before giving birth I used to worry about my child not having a father, but once Iori was born, and we felt like a family, all my worries went away. I realised that the two of us being there for him, and providing love - just like any other family - was what he needed.
Iori has several strong male role models in his life and I don't worry at all about the fact he has two mothers.
I know each family is different, and 'normal' is relative to each child. My son is a very happy and healthy toddler, and just like other children his age. It is important to me that Iori can feel proud of his family and where he comes from.
Of course my family is in the minority. Most of Iori's peers will be from traditional heterosexual family backgrounds. But he is part of a new generation where people's perceptions of the traditional family are widening. And it is this acceptance of diversity that will ensure that Iori finds his place in an inclusive and equal society.