Missing Priscilla Berry: DNA tests fail to identify body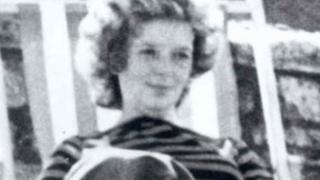 Tests have failed to identify remains police thought could have been from the body of a woman missing for 37 years.
Priscilla Berry, 39, vanished from Mochdre, Conwy county, in 1978 and officers believed her body was discovered in the sea in 1980.
The remains were exhumed from a grave for DNA tests to be held.
"The tests have shown conclusively the remains are not those of Mrs Berry," said Don Kenyon from North Wales Police.
Samples were taken from Mrs Berry's family members but they did not match the remains.
A Berry family member, who still lives in north Wales, said: "We may never know what happened to a loving wife and mother."
The DNA profile of the unidentified woman will be uploaded on to a national DNA database.
The unidentified remains have been reinterred in a grave at Llangwstenin Cemetery, Glanwydden.
Under Operation Orchid, the force is re-examining 17 missing persons cases that date back to 1968. None are believed to have involved any criminality.