BBC Cymru Wales sorry for technical issues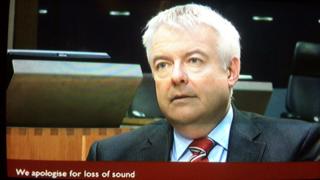 The director of BBC Cymru Wales has apologised after technical issues forced the broadcaster to abandon screening one of its main political programmes.
BBC Wales had to switch from The Wales Report on Wednesday night to Match of the Day after a loss of sound.
Director of BBC Wales, Rhodri Talfan Davies tweeted his apologies when the technical issues became apparent.
BBC Wales said it was working to resolve the issue.
Sound issues hit the broadcaster during its weather report in its 22:25 GMT news bulletin.
The technical issues continued as The Wales Report being presented by Huw Edwards went on air with viewers being unable to hear any of the programme.
An interview with First Minister Carwyn Jones was affected as were pictures in the programme.
The broadcaster took action and switched to the football programme Match of the Day with Mr Davies tweeting: "Tech issues have hit @thewalesreport on @bbcwales tonight - details shortly on when we will show it again. Apologies for the disruption."
A few minutes later, Mr Davies tweeted again saying: "@TheWalesReport will now air immediately after Match of the Day on @BBCWales. Apologies again."
But viewers were unable to see the programme as hoped.
The official BBC Wales Twitter feed also passed messages of apology to viewers following the technical issues and said it would be making the programme available on the BBC's iPlayer on Thursday.
A spokeswoman for BBC Wales said: "BBC One Wales experienced technical issues last night, which affected its transmission of The Wales Report.
"Our teams are working to resolve the issue and our output has been largely unaffected this morning.
"We continue to monitor the underlying issue and apologise for the unexpected change to the schedule last night.
"The Wales Report is now scheduled for broadcast this evening at 10pm on BBC Two Wales."