New weekly newspapers launched in Carmarthenshire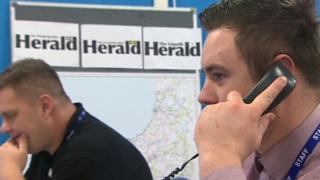 Industry-wide falls in circulation have not deterred the publishers of new local newspapers that have launched in Wales this week.
The Cambrian News, which already publishes editions in mid and north Wales, has begun printing another paper serving Cardigan, Newcastle Emlyn and Aberporth.
MegaGroup launched the Carmarthenshire Herald and the Llanelli Herald.
It is the owner of the existing Pembrokeshire Herald.
The new titles go on sale after the biggest-selling papers in Wales all suffered falls in circulation, according to the latest audited figures.
Meanwhile a poll for BBC Wales found that 16% of people mainly get their news from a paper, while 30% prefer to get the latest headlines from social media and the internet.
The Herald's managing editor Thomas Sinclair is bullish about his new papers' prospects.
"We've spoken to our advertisers, and new businesses that we haven't spoken to before in Carmarthenshire," he said.
"We've already sold all the advertising space for the first edition of the Carmarthenshire Herald. So, odds on, it's going to be a commercial success."
The Pembrokeshire Herald's publishers say it is read by around 17,000 people a week. But like many other newspaper businesses, it also attempts to attract readers online.
"Our website has had nearly a million hits over the last 12 months," said Mr Sinclair.
"That shows that the delivery of news isn't just what you buy from the shop in terms of a newspaper, but it's what you read on your iPad, what you see on your smartphone, and what you use on your laptop.
"So we've had to make sure we cater for those audiences as well."
Other new papers launched in recent years in Wales have faired well.
The Caerphilly Observer began life as an online-only news site, but when advertisers expressed a preference for a printed product, it began publishing hard copies alongside its news website.
While the UK trend for declining circulations continues, there is some evidence that - on a local level - newspapers can continue to prosper.