Bridgend's Island Farm PoW camp escape anniversary marked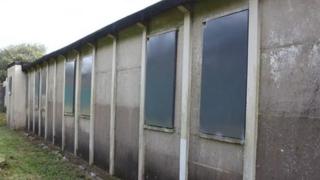 A former German prisoner of war camp in Bridgend is being opened to mark the 70th anniversary of the escape of around 70 detainees.
They tunnelled out of Hut Nine at the former Island Farm camp on 10 March 1945 before later being rounded up.
The hut, which is all that survives of the camp, is being opened to the public on Saturday and Sunday.
A number of artefacts were retained before the camp was flattened, including graffiti painted by inmates.
Before housing prisoners, the camp was used as living quarters by women working at Bridgend's Royal Ordnance factory.
Richard Williams, vice chairman of the Hut Nine Preservation Group, said detainees may have spent up to three months digging through thick clay to carve out the tunnel - the entrance to which is believed to have been concealed under a bed.
At around midnight on the night of the breakout, the group is said to have made their escape while guards were distracted by the noise of a performance at the camp's theatre.
It was later found that they had carried out a raid on the camp's stores, taking pepper powder with them in a bid to deaden the senses of sniffer dogs.
Much debate still surrounds the distance some escapees were said to have travelled before being caught, but most were recaptured locally.