Crime commissioner wants to challenge helicopter base closure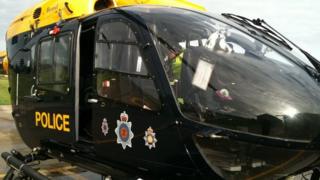 A move to axe a north Wales police helicopter base could face a challenge from the region's police and crime commissioner.
Winston Roddick said there was a lack of proper consultation over the planned closure at Rhuddlan in Denbighshire.
The decision is part of cuts that will see eight of the 23 National Police Air Service (NPAS) bases shut down.
Mr Roddick said he was concerned the decision "does not concentrate enough on north Wales' needs".
The NPAS said it is facing budget cuts of 14% over the next three years on top of the 23% savings it has already made.
'Vital' air cover
Mr Roddick added: "NPAS has not taken the time to properly explain the rationale of the new operating model to us and I am therefore exploring whether there is an option to appeal the decision.
"The airbase in Rhuddlan represents the culmination of a great deal of hard work on the part of officers from this force and the location is central to north Wales.
"It is vital that the integrity of the air cover for north Wales is maintained and that the region continues to benefit from a first class service."
The airbase is one of two covering north-east and north-west parts of Wales. The second base will remain at Hawarden in Flintshire.
A move to close a second Welsh police helicopter base at Pembrey, Carmarthenshire, has also been criticised by the Dyfed-Powys commissioner.