M4 black route will ease congestion, judicial review told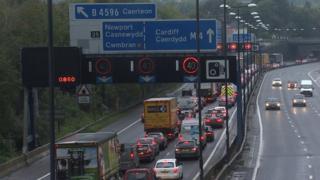 Alternative routes to a planned £1bn M4 relief road would not achieve the aim of eliminating traffic congestion, a judicial review has heard.
The Welsh government told the High Court in Cardiff that it acted lawfully when it agreed to go ahead with the so-called black route around Newport.
The environmental group Friends of the Earth Cymru (FoE) is challenging the decision to build the 14-mile road.
It claims nature and wildlife reserves like the Gwent Levels would be damaged.
Jonathan Moffett, for the Welsh government, disagreed with FoE Cymru's claim that ministers had a legal duty to subject "reasonable" alternative routes to a full environmental assessment.
'Obstacle course'
Mr Moffett said the aim of the new road was to end congestion. The preferred black route option would achieve that, but alternatives such as the blue route would not, he told the court.
He said the FoE Cymru interpretation of an EU directive could mean subjecting an infinite number of alternatives to a full environmental assessment.
He told the court that the practicality of alternatives had been properly assessed and any cut in congestion would be a "drop in the ocean".
"An environmental impact assessment is meant to be an aid to decision making, not an obstacle course," he added.
The hearing, which is scheduled to take three days, continues.