Army helicopter makes forced landing at Monmouth School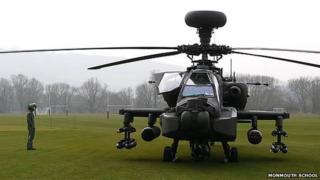 An Army Apache attack helicopter made a forced landing on a school sports pitch after developing a technical fault.
The helicopter, used to destroy enemy tanks, landed at Monmouth School due to a problem with its flight computer, according to the Ministry of Defence.
A school spokesperson said a former pupil was among the crew of a second helicopter flying in convoy and had suggested the school field as a good place to land.
Engineers have been sent to the scene.
Although the helicopter appeared to be carrying four Hellfire missiles and two rocket pods, the MoD's Joint Helicopter Command said they were not live.
"It is thought the gunship will be fixed and on its way by the end of the day," said a school spokesperson.