Sion Jones admits Gwynedd teaching assistant attack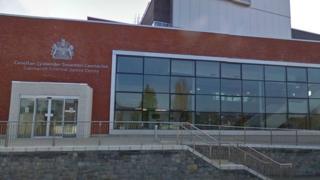 A Gwynedd teaching assistant suffered "devastating injuries" when she was attacked by a teenager, a court heard.
Colette Thomas collapsed a few days after being attacked by Sion Jones, now 20, and was admitted to a major trauma centre in Stoke-on-Trent, Staffordshire.
Jones, of Caernarfon, admitted inflicting grievous bodily harm at the town's crown court.
He was given a three-year community order for the November 2013 attack.
Judge David Hale said he was shocked by the way Ms Thomas was treated by her employers after she suffered the "devastating" injuries.
The court heard her pay has since been stopped which he described as "unbelievable".
The prosecution said Ms Thomas, 54, had been hit and then kicked.
She had a swollen neck and, after collapsing, was taken to the hospital in England before being transferred to a specialist unit in Gobowen, Shropshire.