North Wales Fire and Rescue Service agrees budget cuts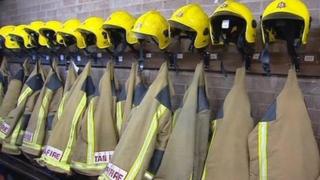 Fire crews in north Wales are to stop rescuing large animals and reduce the number of times they attend false alarms in a bid to balance the books.
North Wales Fire and Rescue Authority set its 2015-16 budget on Monday.
The authority has agreed to cut four management posts, as well as cuts to some services and using reserve cash, to pass its £32.1m budget.
There had been fears hundreds of firefighters could go as part of budget cuts over the next five years.