'Substantial rise' in new psychoactive drug use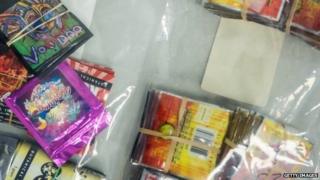 There has been a "substantial escalation" in the use of new psychoactive substances in Wales, an inquiry by a cross-party committee of AMs has found.
But the lack of data about the drugs, formerly called "legal highs," may mean problems are just the tip of the iceberg.
Children as young as 11 have tried the drugs in parts of Swansea, AMs heard.
They have called for them to be banned and for better awareness in schools.
Public Health Wales warned the assembly's health and social committee there had been a "substantial rise" in the use of the drugs since 2009 and they represented a "substantial public health harm".
But it added there was also a "real challenge" in identifying the scale of the problem because most users do not get specialist treatment.
NPS are synthetic versions of drugs, which can mimic the effects of illegal drugs such as amphetamines, cannabis, ecstasy and heroin but are not against the law.
They are easier to get hold of and can be bought online, in shops and on market stalls, AMs were told.
Those trying them were often not into the illicit drugs scene, or they were young people looking to experiment, the review found.
Hospitals, police and schools have no common way of recording who takes NPS when they encounter it and the sheer range of substances available can make it difficult to indentify what people have taken.
One health board said any NPS cases recorded were likely to be "the tip of the iceberg".
The charity DrugScope said alcohol and cannabis were still the biggest issues for young people seeking help, but it said youngsters who were in difficulty with NPS did not know where to go for help, or were in denial.
Most people using NPS are between 18 and 24, but one councillor in Swansea said children as young as 11 in the Morriston area had tried them.
The city's councillors have already passed a motion calling for the UK Government to impose a ban.
Police believe the problem is worse in south Wales but said it could move north.
AMs heard evidence that NPS can be as addictive and dangerous as illegal drugs, with some users noting side effects were worse than those experienced on heroin and cocaine.
One-time legal substances mephedrone and benzofuran have been banned in recent years.
Back in October, a Monmouthshire man was jailed for 10 years for selling "far from safe" drugs on a mail order website.