Funeral dates for teenagers killed in Brecon crash announced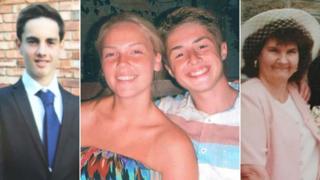 Funeral dates for three teenagers killed in a two-car crash in Brecon have been announced.
Alesha O'Connor, her boyfriend Rhodri Miller and friend Corey Price all died in the crash on the A470 on 6 March.
The funerals will all be held within a week of each other this month.
Alesha's at St Helen's RC Church, Barry, on the 20th, Rhodri's on the 21st at St Cadoc's Church, Cadoxton, and Corey's on the 25th at St Mary's, Barry.
Margaret Challis, 68, also died in the crash.
About 1,000 people attended a service in the Vale of Glamorgan for the victims of the crash on 11 March.
The 500-seat Windsor Road chapel, Barry, was full and hundreds stood outside.
A service was also held at Cardiff's St David's College where Alesha attended.