Northern Lights seen across Wales after rare storm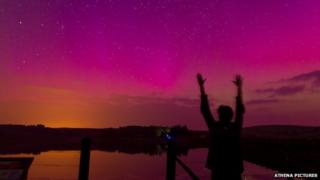 A severe geomagnetic storm caused rare sightings of the Aurora Borealis, or Northern Lights, over Wales on Tuesday night.
A magnetic storm - rated as "severe" - was caused by two pulses of electro-magnetic energy which left the sun.
They are unusual in Wales with perhaps no more than one or two sightings every 11 years.
Green and purple curtains of light were seen in areas including Rhondda Cynon Taf, Caernarfon and the Brecon Beacons.
The spectacle was most prominent between 23:00 GMT and 00:01am, and was also observed as far south as Somerset, and other parts of the Northern hemisphere from Alaska to Finland.
The storm was predicted by astronomers and geophysicists but was stronger than expected at a level four out of a maximum of five on the Internationally-agreed G-Scale.
The Northern Lights are normally expected at high latitudes around the arctic during periods of high solar activity.