'Enhanced monitoring' of Cardiff hospital emergency services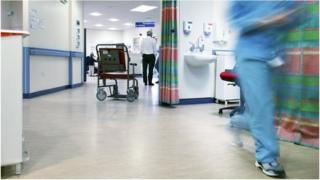 Wales's biggest hospital will be subject to "enhanced monitoring" after concerns about emergency services.
Cardiff and the Vale Health board say the move at the University Hospital of Wales was due to issues with "unscheduled care".
Health board chief executive Adam Cairns told AMs last week there had, on occasion, been lengthy ambulance delays outside A&E but this had improved.
Nationally, waiting times at emergency departments improved last month.
However, new figures show they are still well below target.
In February 83.8% of patients in Wales were admitted, transferred or discharged within 4 hours. The target is 95%.
The figure is up on January's percentage of 82.4%, but below the performance in February 2014 of 86.6%.
The number of people who waited more than 12 hours fell from 3,049 in January to 2,202 in February 2015.
There has also been a deterioration in cancer waiting times for Wales.
A total of 82% of patients diagnosed with suspected cancer by their GP started treatment within 62 days.
That is down from 87% in December. The target is 95%.
The figures also showed 95% of patients newly diagnosed with cancer while they were being treated in hospital for something else were treated within 31 days.
That was down from 97%. The target is 98%.