First set of quads born at St Fagans Museum, Cardiff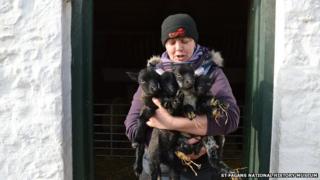 A ewe at a south Wales museum has given birth to the first set of quads.
The four lambs were born at St Fagans National History Museum, Cardiff, on Tuesday.
Emma Edwards, the museum's shepherd, was only expecting the ewe to have triplets and was "more surprised than anyone" when she delivered a fourth lamb.
Visitors were able to see the new arrivals in the shed on the museum's website.