Reaction to Institute of Welsh Affairs economy report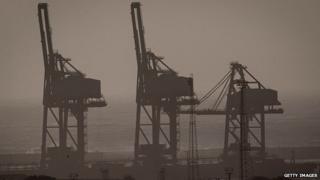 Business leaders and politicians have reacted to a report which says Wales needs to be far more ambitious if it has any chance of catching up England economically.
There is "little evidence" that devolution has had much effect, the Institute of Wales warned.
Prof Gerry Holtham's report says Wales needs an "economic miracle" to generate the necessary growth to catch up.
The Federation of Small Business said the report was a starting point.
The value of the goods and services - or GVA - from Wales was 72.4% of the UK average in 1999 and 72.2% 13 years later.
The Welsh Conservatives said the report painted a "stark picture" and a different approach was needed.
Shadow Business Minister William Graham AM, said: "Welsh Conservatives want to see clear reachable targets introduced, aftercare for new businesses setting up in Wales, and a private sector Investment Council."
"Inward investment in Wales is on the up thanks to the opportunities offered by the UK Government.
"Labour ministers have a crucial role to play in ensuring Wales continues to benefit from this growth."
The Welsh Liberal Democrats blamed Labour's "poverty of ambition" when faced with the opportunity of devolution.
Eluned Parrott AM, the party's economy spokesperson said: "Small businesses are the backbone of our economy, but they are not getting the support they need.
"We need a Welsh government that is willing to think big and make radical changes, yet that's not what we're seeing."
She said her party was putting forward ambitious proposals for business and wanted "an apprenticeship revolution in Wales".
ANALYSIS From Sarah Dickins, BBC Wales Economics Correspondent
Wales needs more middle-sized companies with headquarters and importantly its research and development here if we are going to pull away from the bottom of the league in terms of the value of what we produce.
The IWA also says for the Welsh economy to begin to catch up and close the gap with England, we need higher skills and our companies and organisations need to spend more with Welsh companies.
I've been to see Orangebox at Nantgarw, north of Cardiff.
It's Welsh-owned, the headquarters are here, as is its research and development and design departments.
With 350 employees and a £50m turnover, it buys 45% of its materials from within Wales. It also spends £2m a year with Linear Plastics which is on the same industrial estate.
Economist Prof Gerry Holtham argues that more firms like this could help lift Wales from being at the bottom of the pile in terms of GVA.
But his report points out it is about more than that.
It says the new National Software Academy in Newport is an important initiative and gives Singapore as an example of a nation that tied its education policies to its economic priorities.
But it also says Wales needs to be more ambitious about using significant European Commission funds to encourage innovation and suggests one future option for the Welsh government could be generous tax relief on business rates if companies invest in research and development.
One can understand that governments are wary about taking too many risks with taxpayers' money, but the report suggests that if Wales is not more brave, ambitious, then we will never have a hope of catching England.
The Federation of Small Business Wales said the report was a starting point.
"The report captures some of nuances in the challenges we face with restructuring the Welsh economy," said a spokesman.
"The general thread is we need to be doing something different if we're to close that gap and not carry on the trajectory we're on at the moment."
ACADEMIC ON 'MISSED OPPORTUNITIES'
Dr Kath Ringwald, senior lecturer at the faculty of business and society at the University of South Wales, said the question of ambition and confidence was not just for politicians but for the nation and businesses within it.
"In that same time span since devolution we've also had access to Objective One funding and back then in 1999 and 2000 we thought it was going to make a big difference," she told BBC Radio Wales.
"It has made a difference but nowhere near the difference that was needed to bring the economic growth we needed just to become average performers - not outstanding performers.
"We can't say it's all fault of devolution, there are other factors - including one of the worst recessions for many, many years, from 2008."
"There's been a missed opportunity to sell Wales, even people just across the border aren't aware we're a separate country with our own language and parliament. We need to create a brand image that's much stronger to help our companies to position themselves internationally".