New plan for first seaplane service in Wales floated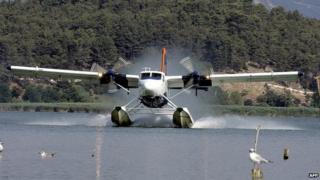 Plans to launch Wales' first commercial seaplane service are being discussed, a business group has revealed.
Cardiff Business Council has drawn up proposals which would see flights running from Cardiff to Swansea, mid Wales, north Wales and London.
CBC chairman Nigel Roberts said talks have been held with a Canadian operator.
He added: "There's going to be plenty of people thinking we're a bit mad."
The service could see seaplanes running between Cardiff Bay and Swansea Bay, with the journey taking about 20 minutes. Passengers would likely pay less than £80, Mr Roberts said.
He said "calm water" is required for landings and the proposed Swansea Bay Tidal Lagoon would be ideal.
'Massive' effect
Mooted routes would also see the capital linked to mid and north Wales within 30 minutes, via Bala lake and Lake Vyrnwy.
The CBC is also in talks with London City Airport over the possibility of using docks around the English airport to run a service between the cities, mainly for business travellers.
A pan-Wales service would have a "massive" effect on inward investment and tourism, Mr Roberts said.
"We've got to make sure that people stay in Wales more than they do and we've got to give them more to do," he added.
While the CBC, Cardiff Council's inward investment arm, is "very excited" about the plan, a feasibility study would determine if it can actually work, Mr Roberts said.
He predicted the service could be launched "within months" if the numbers work.