Welsh Ambulance response times improve again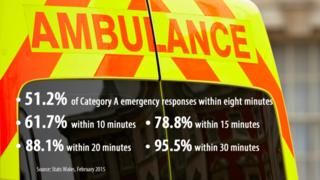 The latest Welsh Ambulance Service response times show improvement for a second month in a row.
It follows last December's figures which were the worst on record.
There is an eight minute window for responding to Category A life-threatening calls - in February crews hit the target 51.2% of the time.
The Welsh government target is 65% and there has been pressure for a continued improvement.
The latest figures cover February. They show although improving responses for emergency calls are still behind the same period a year ago.
From this month, emergency response times for the most serious cases - so called Red 1 calls which are immediately life-threatening - are being published officially alongside the usual target figures.
These show 62.7% of Red 1 calls were answered within eight minutes - slightly down on the previous month - and 49.7% of less urgent Red 2 calls, an improvement.
The service has only hit the target figure once in the last three years.
Meanwhile, a trial of ring-fencing ambulance resources within the Cwm Taf health board area will start next week.
The latest figures show only 43.4% of ambulances arrived within the eight minute window for Category A emergencies in this area, which covers Rhondda Cynon Taf and Merthyr.
This is the lowest response across all the health boards areas in Wales.
The aim is to improve response times by reducing the number of times ambulances answer calls to neighbouring areas.
Tracy Myhill, Welsh Ambulance Service chief executive, said the latest figures were "encouraging".
"Recognising that this is still not where we want to be, we are continuing with our efforts to make progress towards the 65% A8 target and the improvement again this month indicates that our efforts are paying off," she said.
Ms Myhill said she hoped ongoing improvement initiatives would start to bear fruit in the coming months.
"In the medium term, we have invested in 17 additional emergency vehicles, which will be out on the roads this summer.
"We're also in the midst of a campaign to recruit dozens of paramedics and urgent care assistants into our workforce."
She urged the public to use the service wisely and only to dial 999 for a serious illness or injury or if life was at risk.