Carwyn Jones defends father's private hip operation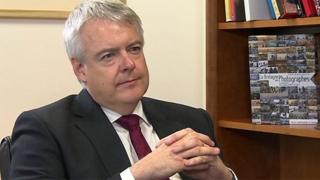 Carwyn Jones has defended his father's decision to have private health treatment, despite his own stance against the privatisation of the NHS.
The First Minister said his dad Caron's decision over his hip operation was "a matter of convenience".
Caron Wyn Jones told the Daily Mail newspaper he had private treatment against his son's wishes because he was going to Italy.
Carwyn Jones said private treatment would not have been his own choice.
'What he does is a matter for him at the end of the day - so it's not me," he said.
"I'm the politician and from my point of view I've never had private treatment and wouldn't do that."
Asked if he was angry with his father, he said: "He's my dad at the end of the day and we're very close."
The First Minister defended Wales' NHS, saying it "works very well" despite a 10% cut in the Welsh government's budget.
He added: "Now health, remember, takes 45 per cent of our budget to begin with - it's well nigh impossible to put in the amount of money you would want in health when you're getting that kind of budget cut, without sending the council tax through the roof."