Troops converge at RAF St Athan for Nato training exercise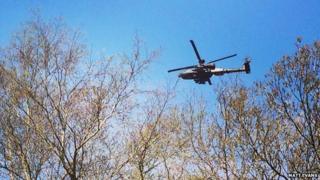 Around 1,500 troops have converged on the Vale of Glamorgan in what is believed to be one of the largest military exercises held in Wales.
Helicopters involved in Nato's Joint Warrior exercise have landed at RAF St Athan.
Parachute regiment 2 Para Battle Group will practice assaults at training areas in Caerwent, Monmouthshire and Pembrey, Carmarthenshire.
In total, around 13,000 NATO personnel from 14 countries are taking part.