Dog theft crime 'not being solved' in Wales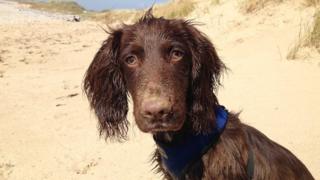 Only 3% of dog thefts in Wales since 2010 have resulted in someone being charged for the crime, according to figures from three Welsh police forces.
More than 520 dogs were reported stolen but just 15 people were charged, the Freedom of Information data from the South Wales, North Wales and Dyfed-Powys forces show.
Dog Lost, a missing pets organisation, said dognapping cases were increasing.
But it said police cut backs meant thefts were often not dealt with.
It said a rise in social media sites selling dogs was adding to the problem.
The figures, from 2010 to February this year, show:
South Wales Police had the most reported dog thefts, with 239 pets stolen and five people being charged
North Wales Police had 172 dogs stolen, resulting in nine people being charged
The Dyfed-Powys force dealt with 114 dogs being stolen, with one person convicted of a crime
Gwent Police only had figures from 2012 to 2014, showing 38 dogs were stolen. It did not have the information about how many people were charged or convicted.
Dog Lost said the figures highlighted the difficulty police faced in dealing with dog thefts - and warned that it was seeing about a 15% rise in the crime each year around the UK.
"Given the cutbacks in the police, searching for a lost dog isn't high on their agenda. There's hardly ever a conviction brought," said a spokeswoman for the Newport-based organisation.
"For a pet owner, their dog is irreplaceable. Many people go through a grieving process when a dog is stolen and they wonder for years what has happened to it. It's devastating."
The organisation, which helps circulate appeals for dogs reported missing, said dogs were also being stolen to be sold or to buy and swap on social media, which could be adding to the rise in dognapping.
The four Welsh police forces said they treat dog thefts seriously and will take further action if there is sufficient evidence.
North Wales Police added that compulsory microchipping for dogs, which is being brought in by the Welsh government, will help.
Dognapping trends
The most common dogs stolen in Wales, according to the Freedom of Information statistics, are working dogs, like lurchers and cocker spaniels, along with dogs that have been made fashionable by celebrities.
These include chihauhuas - often seen being carried in handbags of the rich and famous - along with French bulldogs and Staffordshire bull terriers.
"Any reputable dog breeder would not sell dogs like chihauhuas to teenage girls who might want a dog to carry around," said Jayne Hayes, founder of Dog Lost.
"So there is a market for them to be stolen and sold on social media and websites."