Aftercare scheme for returning missing people launched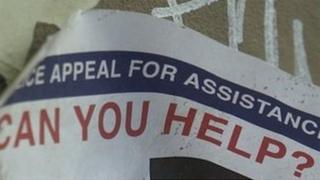 A charity is to launch a new service in Wales to help missing people and their families after they re-unite.
Latest figures show the number of people vanishing in Wales is on the rise, with more than 14,500 disappearing in 2012-2013.
Missing People will launch a pilot scheme backed by Big Lottery Fund Wales in September.
The aftercare service will offer support and advice while former-missing people and their families reconnect.
Missing People aftercare co-ordinator Shane Hemsley said: "You think when people come back it's all joy but that's not always the case.
"All of the issues around going missing - they do come to the surface."
'Problems and issues'
He added: "We have recognised that when a person comes back there can be a whole new set of problems and issues that can arise from that.
"In some circumstances, it can be like having a stranger in the house."
The charity helps to publicise the details of the 300,000 people who go missing in the UK each year and supports their relatives.
It is currently circulating information about 19 people who have gone missing from Wales.
Welsh police forces asked the charity to send confidential text messages to 349 missing children and adults in 2014-15, with 39 Welsh families of missing people assisted during this period.