Welsh ambulance service 'turns corner' on response time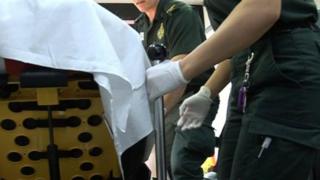 The Welsh ambulance service has "turned the corner" when it comes to response times, its head has said.
Latest figures show better responses to the most urgent calls for the third month in a row.
Chief executive Tracy Myhill said staff morale and attendance had improved and there were fewer handover delays at hospital.
A project in the worst-performing area in the south Wales valleys has brought a big improvement inside a month.
The Welsh government has set a target of 65% of ambulances responding to Category A life-threatening calls within eight minutes.
In March, 52.8% of ambulances, across Wales, arrived within this window. In February crews hit the target 51.2% of the time.
But last December's figures were the worst on record, at just 42.6%.
The service is also now publishing the response times to those 999 calls graded critical.
In February, 62.7% of so-called Red 1 calls - immediately life-threatening - were answered within eight minutes.
In March that figure had risen to 65.3%.
Ms Myhill told BBC Wales: "I'm seen a continuing improvement.
"I said from the start I wanted to transform the organisation. Month on month we're going in the right direction," she said.
"I can see real differences in this organisation - in staff motivation, in relationships with health boards, in the focus on handovers and in engaging with the public in only using the service when they really need to.
"There's not one thing I would isolate - staff morale and attendance is improving, recruitment is progressing and handover delays are decreasing, it's all contributing."
Meanwhile, a trial aimed at improving response times in the worst performing areas has also been bringing results.
The Explorer project has been ring-fencing ambulances based in Rhondda Cynon Taf and Merthyr so they do not get redeployed out of the area.
It has seen the number of ambulances responding within the eight-minute window rise from 46.2% to 60% within a month.