Politicians told to give young the skills to do 40,000 potential jobs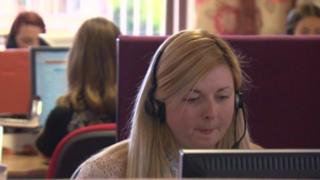 Politicians need to ensure young people have the right education and skills to take advantage of up to 40,000 jobs in north Wales over the next decade.
That is the call for the incoming UK Government by the North Wales Economic Ambition Board (NWEAB).
Job opportunities for the region range from developing the two enterprise zones on Anglesey and Deeside to the new super-prison at Wrexham.
There are also rail electrification hopes and the planned Wylfa Newydd.
The replacement Wylfa nuclear plant alone has been called a "once in a generation opportunity" by Welsh ministers.
The NWEAB aims to work with business, councils and education providers to boost economic growth.
It says there was a challenge of moving from low paid work to the higher paid jobs, which could come with developments across the region.
The most recent ONS figures say 35,000 people in Wales are on Zero Hours contracts.
"It's important we have the right supply chains, the right infrastructure and most importantly that we equip young people with the appropriate skills to go with these opportunities," said NWEAB director Iwan Trefor Jones.
"The new UK Government must work with the Welsh government so that we deliver on shared priorities.
"The partnership between higher and further education and local councils is crucial but also that we work with private sector businesses to respond to their needs.
"We need investment in infrastructure but also ensure there's a new culture of joint working between those in education.
"The business world and education world needs to come closer together so young people have the right skills and confidence to take advantage of these opportunities.
"As well as jobs, it's important for sustaining communities."
To look at the service side of the region's economy I visited the expanding Moneypenny in Wrexham, which provides office services and call answering.
The private firm - set up 15 years ago by a brother and sister - now employs 400 people and they pay the living wage and there are no zero hours contracts.
Moneypenny worker Adele Popham was made redundant at the end of last year and said if you were prepared to "put the effort and were open minded" you could find work.
'Shocked'
She said: "I did have other offers, but I chose Moneypenny. From my own experiences, I feel there's a definite upswing."
Joanne Hope, who used to work in a shop, added: "I wanted more than a career, it's different to retail, the atmosphere - there's a lots of progression and a chance to move up.
"We're always recruiting. I would consider myself lucky, I was looking for a long time for a full-time job and I was part-time in retail.
Rachel Clacher co-founder, said: "It's all about people; for our clients it's about people you know and trust - about finding great people to have great relationships with our clients.
"We recruit on attitude and give people the skills - as long as we have people who are bright and capable, we have a place for them.
"I see living wage as only benefiting people. At the end of the day we want people who have happy and fulfilled lives."
But she is also "shocked" by some of the lack of basic literacy skills by some people who apply.
She said: "From politicians, I want a bit of clarity, a bit of honesty - I'm sick to death of this back-biting - and a bit of simplicity to help us all make good choices."