Grass fires summit: Minister hails 'tremendous' community response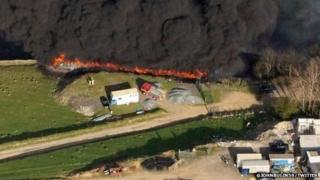 Communities in south Wales are "fed up" of grass fires and want to get involved to stop the "unacceptable behaviour", a grass fires summit has been told.
The meeting of police, fire services and public bodies came after fire crews in south Wales tackled 900 blazes in March and April.
The summit heard neighbourhood patrols and CCTV would be used to detect arsonists.
The new measures would not require extra funding, the summit heard.
Minister for Public Services Leighton Andrews said mobilising communities was part of the answer.
"I think the thing that people were particularly heartened by was the tremendous response there has been from the community", he said.
"They're coming forward themselves to make clear that this is unacceptable behaviour and they want to get involved themselves in protecting our hillsides."
He added that that the response would focus on "education, enforcement and detection".
A fire crime chief has previously called for more prosecutions to tackle the problem.
Following a spate of deliberately started blazes across Merthyr and Rhondda Cynon Taf council areas, the charity Crimestoppers has offered a £5,000 reward for information about the crimes.