Kirsty Williams backs Tim Farron to be new Lib Dem leader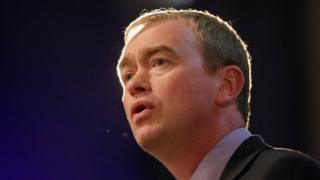 Welsh Liberal Democrat leader Kirsty Williams has backed Tim Farron to be Nick Clegg's successor.
Mr Farron is MP for the Cumbrian seat of Westmorland and Lonsdale and a former president of the Lib Dems.
He is one of eight Lib Dem MPs left in the Commons after heavy losses at last week's general election which saw Mr Clegg stand down as party leader.
Mr Farron said he has not yet decided whether to stand for the leadership.
In a joint statement with Scottish Lib Dem leader Willie Rennie, Mrs Williams said he is the right person to "inspire" and lead the party into next year's Welsh assembly election campaign.
She said the party needed a "fresh start" and urged Mr Farron to "step up and lead our party to recovery".