Police custody in north Wales 'generally positive', report finds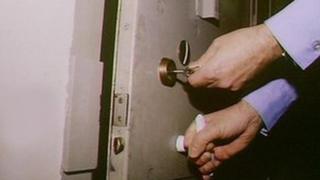 Conditions in police custody suites across north Wales have "improved" and are "generally positive", according to a report by the HM Inspectorate of Prisons.
Inspectors found suites were mostly well-managed.
But there are concerns about "inadequate" data collection, including recording the use of force.
The report also says "far more" detainees were strip-searched in St Asaph than in other police stations.
Inspectors turned up unannounced to custody suites in Caernarfon, St Asaph, Wrexham, Dolgellau and Holyhead.
They found the suite at Wrexham police station, which had been branded "very poor" and "dark and dirty" in a previous inspection, had been improved and that plans for a new suite were well underway.
The authors, Chief Inspector of Prisons Nick Hardwick, and Dru Sharpling, HM Inspector of Constabulary, say the report "recognises a range of achievements by North Wales Police in their custody provision" and that they expect an action plan to be provided for the "comparatively small" number of areas requiring improvement.
North Wales Police chief inspector Jane Banham said overall she was pleased with the report and an action plan has been drafted to address concerns.
Points include re-introducing the recording of use of force, that had been described as "inadequate".