Campaign to preserve Welsh place names reaches Senedd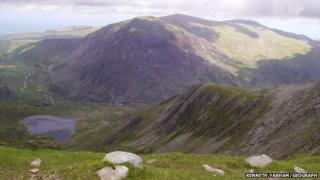 Campaigners fighting to preserve Welsh place names have taken their petition calling for action to the assembly.
Language group Mynyddoedd Pawb (Everyone's Mountains) fear that Welsh place names are gradually being replaced by English titles.
The group wants the Welsh assembly to persuade the Welsh government to bring place names under planning control.
Opponents have argued that English names are more accessible for tourists.
The group has cited examples like Snowdonia's Cwm Cneifion and Twll Du.
Cwm Cneifion is known as the Nameless Cwm and Twll Du (Black Hole) is also called The Devil's Kitchen.
The Welsh government said it was committed to promoting the Welsh language but added the planning system was about land use and not the correct place to address the issue.