Water voles face 'slippery slope' to extinction, expert warns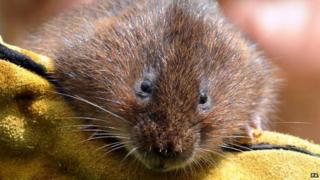 The water vole population in Wales is on a "slippery slope" to extinction, an expert has warned.
Analysis by Glandŵr Cymru has shown a "dramatic decline" in water vole sightings in Powys, Denbighshire and Wrexham over the past 15 years
The trust's national ecologist Stuart Moodie said water voles were "probably the most rapidly declining mammal in the UK".
He urged the public to record sightings to help prevent extinction.
The decline has been attributed to habitat loss from development, agriculture and pollution, as well as the threat from American mink, which have bred prolifically since escaping from fur farms in the 1970s.