Welsh-medium education targets will be missed, warns expert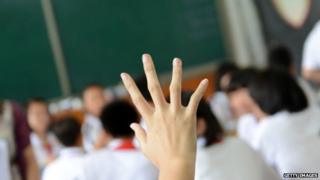 Welsh government targets for Welsh-medium education will not be reached by the next census, according to a leading statistician.
Hywel Jones said it was not possible for 30% of seven-year-old to be taught through the medium of Welsh and 23% of year nine pupils to be assessed in Welsh as a first language by 2021.
He added that "Welsh language education is not growing quickly" enough.
The Welsh government launched its Welsh Medium Education Strategy in 2010.
At the time, the government said it would "develop effective provision from nursery through to further and higher education" for Welsh language education.
As part of the monitoring process, five and 10-year targets were set in order to review the strategy's effect on three levels of the education system.
Mr Jones, former statistician to the Welsh Language Board, said his assessment was based on current information, which showed "22.2% of pupils were assessed in Welsh (first language) in their final year of primary school in 2014. It was a similar picture in 2011 - 21.9%".
The Welsh government declined to comment.