National Theatre Wales chief John McGrath joins Manchester festival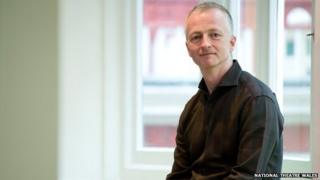 National Theatre Wales founding artistic director John McGrath is to step down from the job to run the Manchester International Festival.
McGrath is credited with giving many Welsh artists the confidence to express themselves on the international stage.
He launched the company as artistic director and chief executive in 2009.
Its highlights have included Michael Sheen's The Passion in Port Talbot, A Good Night Out in the Valleys and The Radicalisation of Bradley Manning.
Mr McGrath staged performances all over the world and put on innovative productions that included performances in an aircraft hangar and groundbreaking interactive dramas.
'Exciting future'
National Theatre Wales chairman Phil George said Mr McGrath had built a theatre company rooted in the communities of Wales that has "a truly exciting future".
Arts Council of Wales chairman Dai Smith said the director had given everyone the confidence to be a local company with "a vision and a reach that is truly global".
Mr McGrath praised the attitude in Wales for "a vibrant, fresh arts scene". National Theatre Wales will appoint a new artistic director and chief executive later this year.
Mr McGrath will begin work for the Manchester International Festival in September.
The biennial event specialises in staging premieres by international cultural figures. This year's festival, which takes place in July, will feature the likes of singer Bjork, artist Gerhard Richter and children's TV star Justin Fletcher.
Mr McGrath will take over from the festival's founding artistic director Alex Poots, who is leaving to run New York's new Culture Shed.