Diagnostic test waiting times lowest for three years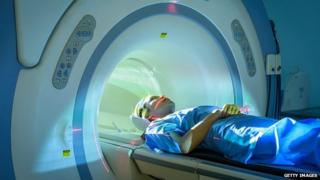 The number of patients in Wales waiting more than eight weeks for a diagnostic test, such as a MRI scan, has fallen to its lowest level in almost three years.
Figures for March show 11,346 people waited more than eight weeks compared with 20,000 in January.
This is the lowest figure for diagnostic test waiting times since May 2012.
There was also a reduction in patients waiting more than 26 weeks for hospital treatment.
In March, 86.2% of patients waited less than 26 weeks, up from 85.3% in February.
The Welsh government said it was "pleased" with the improvement but the Conservatives claimed there has been no let up in "shameful" delays.
The Welsh government has set targets for all patients to be referred for diagnostic tests within eight weeks and 95% of patients referred for hospital treatment within 26 weeks.