Estyn chief has 'great faith' in education despite cuts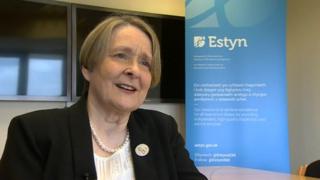 Schools can improve standards despite budget cuts, the outgoing chief inspector of schools in Wales has said.
Ann Keane said she had faith in the "improvements that teachers can make."
"I can't actually foresee what exactly in children's education will suffer because of any cuts that might happen", she told BBC Wales.
Ms Keane has been an inspector for more than 30 years and retires from her role at Estyn later this month.
She said: "While there are teachers teaching pupils, children and young people in classes, and they are delivering a curriculum and they are supporting and encouraging children to learn... then we can have great faith in the improvements that teachers can make in those situations."
Meilyr Rowlands, who has been with Estyn for more than 15 years, will succeed her in May.