Dentists 'lacking confidence' to report child neglect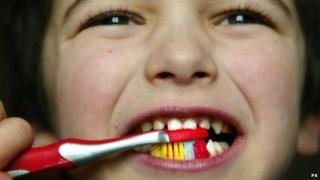 Dentists in Wales lack confidence to refer children with dental neglect to social services, a Cardiff University study has found.
The report said paediatric staff had "limited oral health training", which meant dental neglect may be missed.
Dentists were unsure when children with dental issues crossed the "child protection threshold" and need help.
Paediatricians from across Wales are meeting in Hirwaun, Rhondda Cynon Taff, on Friday to hear the study's findings.
The Cardiff University report, "Dentists, doctors, nurses and neglect - are we seeing the same thing?" saw responses from 50 paediatricians, 50 dentists and 50 paediatric nurses.
It concluded: "Many dentists are reluctant to act upon suspected abuse, but recognise oral health concerns.
"Explicit thresholds for dental neglect are required, and joint training of paediatric and dental professionals."
The 2013 Children's Dental Health Survey for England, Wales and Northern Ireland, published this year, found about half of eight-year-olds and a third of five-year-olds showed signs of decay in their milk teeth.