Welsh cities 'risk being left behind' to northern powerhouse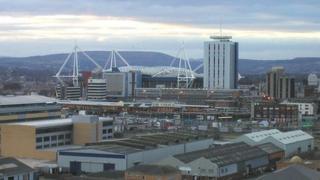 Cities in Wales risk being left behind unless there is action by ministers to match words in reports, according to a think tank.
Andrew Carter, deputy chief executive of the Centre for Cities, said: "We need to see real decisions and real action on the ground".
He fears Cardiff, Swansea and Newport could lose out to the "northern powerhouse" in England.
The Welsh government said city regions were making "excellent progress".
But Mr Carter believes it is not doing enough to grow the cities of Wales in the way Chancellor George Osborne is driving forward cities in England.
He thinks Wales' biggest urban centres risk being left behind as places like Greater Manchester get more power and extra money to grow prosperity.
English cities will get powers over housing, transport, planning and policing.
As the Chancellor George Osborne announced plans for Greater Manchester Mr Carter said of Wales: "We need to see real decisions and real action on the ground and I would say the Welsh government needs to play a more leadership role in making these things happen".
He added: "We can have the words but it's the actions that really matter. What we need now is to see the Welsh government play a similar leadership role [as George Osborne] in the context of Wales."
"I don't think they are doing enough. They've undertaken task and finish reviews and all the rest of it ".
In a statement the Welsh government responded: "Our Swansea Bay and Cardiff Capital City Regions are making excellent progress.
"The boards have published bold, ambitious and confident visions for the development and growth of their regions and are working upon identifying and promoting major projects.
"In addition, a major innovation summit is being hosted by the Swansea Bay City Region Board next week at which we expect some significant further announcements."