Overseas visits up 7% to 933,000 in Wales in 2014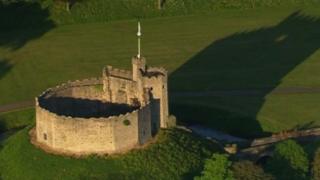 The number of foreign visitors staying at least one night in Wales increased by 7% in 2014 and they spent £368m, up 4.5% on the previous year.
In all, Wales saw 933,000 visits from overseas last year, figures from the Office for National Statistics showed.
Separate results last week showed over 10 million tourists stayed overnight in Wales last year - the most since 2006.
The Great British Tourism Survey also revealed visitors were spending more, with expenditure at £1.7bn in Wales.
The latest data using The International Passenger Survey showed 70.5% of Wales' 933,000 visits came from Europe, with 12.6% from North America and 16.7% from elsewhere.
They spent £127m in Cardiff with over £8m in north Wales, £47m in Swansea, and £25m in Pembrokeshire.
The ONS results found that all the UK experienced growth in visits from overseas residents during 2014, primarily due to the rise in visits from European residents, which increased by 6.2% in England, 10.5% in Scotland and 11.9% in Wales.
Deputy Culture Minister Ken Skates said: "Following decreasing numbers of overseas visitors to Wales between 2008 and 2012, linked closely to economic conditions in our main markets, these figures are excellent news for Welsh tourism and follow on from growth in 2013 and from the recent excellent figures for the GB market which show Wales gaining market share."
He said Visit Wales, which promotes tourism in Wales, had been concentrating on three key markets - Germany, USA and Ireland - identified as "having the highest potential for growth" by showcasing the nation at 16 travel trade shows.