Fifa vote should be 'boycotted' by Football Association of Wales, AM says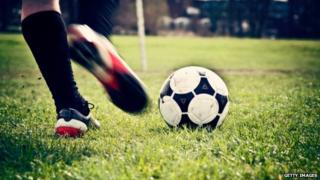 Fifa's presidential vote should be boycotted by The Football Association of Wales and other European governing bodies, an Assembly Member has said.
Mike Hedges AM said if the FAW and other countries refused to vote on Friday it would have a "huge impact".
On Wednesday Swiss police arrested seven Fifa officials in Zurich, on suspicion of accepting and paying millions of dollars in bribes.
The Football Association of Wales declined to comment.
The Labour AM, who sits on the Assembly's Communities, Equality and Local Government Committee and has been involved in grassroots football in Wales for decades, said he welcomed the investigation.
He said: "If the FAW boycotted the vote unilaterally it would not have an effect, but as part of a larger boycott by European countries it would have a huge impact.
"I am very pleased it is being dealt with by the USA because it cannot be intimidated or threatened by the countries of those under investigation.
"I hope that everyone named is extradited to the USA and that they have a speedy trial to decide on their innocence or guilt."