What is Wales' top sick day for public sector workers?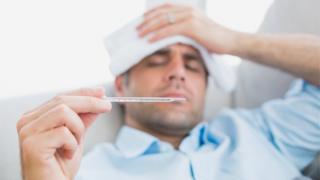 The top sick day for Welsh public sector staff in 2015 has been revealed as 8 January, according to new figures.
It appeared eight times - more than any other - in the top-10 lists of sick days for authorities who responded to a BBC Freedom of Information (FOI) request, with more than 4,750 staff absences.
In 2014, 17 December was top.
The Unison Cymru union said winter pressures and stress left workers "more susceptible" to seasonal illness.
BBC Wales asked Welsh police forces, fire services, councils, health boards, Public Health Wales and the Welsh Government to list their top 10 sick days for each year since 2012.
Polls have previously suggested the first Monday in February is the day on which most UK workers call in sick.
But in 2015, January was the month with the most top-ten sick days among Welsh public sector organisations, followed by December and then February.
'Demands are high'
Dominic MacAskill, Unison Cymru Wales' head of local government, said: "Winter is the busiest season for public sector workers as demands are high for winter infrastructure maintenance, care and health services which put a strain on what are now depleted and overstretched services following six years of austerity driven cuts.
"This strain on services increases the stress on public sector workers, as they are being asked to provide more with less, and increased stress levels has been evidenced to affect people's immune system leaving them more susceptible to picking up seasonal illnesses.
"So, although these figures are concerning they are probably understandable in the context of pressured and under resourced public services."
The latest official figures showed the percentage of hours lost to sick leave in the UK's public sector are higher than in the private sector - 1.8% and 2.9% respectively during 2013 - but also that the gap narrowed over the past 20 years.
'Pressured public services'
Jonathan Isaby, chief Executive of campaign group the TaxPayers' Alliance, said the difference is "considerable".
"Greater accountability along with stringent reporting requirements could address this problem, which would be in the interest of everyone concerned," he said.
The data showed the day which attracted the second most sick days in the Welsh public sector last year was 7 January, which appeared seven times with 3,713 staff sick days among those organisations.
Eight organisations refused to respond to the Freedom of Information request: Flintshire council, Neath Port Talbot, Pembrokeshire, Powys, Rhondda Cynon Taff, Torfaen, Vale of Glamorgan and Cardiff and Vale University health boards.
Some others, including Blaenau Gwent council, Bridgend and Denbighshire, were only able to supply the month which attracted the most sick absences.
The top sick day in 2012 was 20 December (6,132 absences) and 2013 was 8 January (4,955 absences).