Experts focus on tidal power bid for north Wales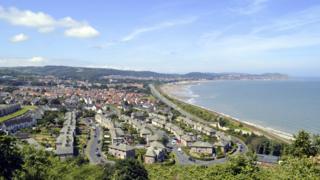 The challenges facing a bid to build a tidal lagoon covering 270 sq miles of the north Wales coast are the focus of a global marine conference.
The proposed North Wales Tidal Energy project (NWTE) would stretch from Llandudno to Prestatyn.
Backers claim it would generate enough electricity to power 750,000 homes - and help protect the coastline.
The plans are being discussed at a two-day event in Caernarfon, Gwynedd, with experts from 12 countries.
"What we are trying to do is to understand the physical environment, first of all, off the north Wales coast, so we have a good understanding of the physical processes - the whole eco-marine environment," explained Prof John Reynolds, who is one of the directors of the NWTE project.
"We've said right from the outset of the project, we said the whole element of the project is going to be research-led, it's going to be science-led."
Those involved in the project are already collaborating with Bangor University, which is hosting the fifth Marine and River Dune Dynamics conference at Caernarfon, Gwynedd.
It brings together marine scientists from South Korea, China, America, and Europe, with Prof Reynolds giving a keynote address on the lagoon scheme.
It is estimated that the whole project could cost £7bn, taking five years to build.
"North Wales is excellently suited for this tidal impoundment scheme as it displays one of the highest tidal ranges of the UK coastline," added Prof Reynolds.
"However, the underpinning technical challenges associated with the mobile seabed should not be overlooked."
The project envisages a wall being built out to sea, stretching between the seaside coastal resort of Llandudno in Conwy county over to Prestatyn in Denbighshire.
The barrier would house turbines to generate electricity, driven by the tidal force pushing through the wall.
In addition to generating electricity, the lagoon would bolster sea defences, in an area that is waging a constant battle against coastal flooding.
Those behind the lagoon claimed that "doing nothing" off the coast would cost up to £750m over the next 100 years in flood defence bills, a drop in coastal property prices, and the loss of inward investment.
However, it remains very early days for the tidal project, which is still bidding to attract the investment it needs to proceed.
It also faces competition from those behind plans for the Swansea lagoon scheme, who have also identified Colwyn Bay in Conwy county as another potential location for a tidal power scheme.
However, those plans - along with the Swansea project - are on hold, after the UK government announced its own review in February into the viability of tidal power across Britain.