Cardiff taxi cab leader loses 'short fares' appeal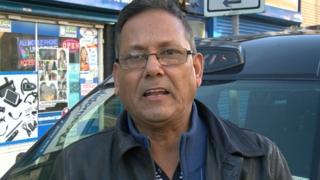 The chairman of Cardiff's taxi cab association has lost a suspension appeal after being accused of refusing short-distance fares in the city.
Cardiff council imposed a 10-day ban on Mathab Khan, but he took the matter before city magistrates on Monday.
He was the driving force behind a strike of cabbies at the weekend, which followed a clampdown on drivers turning down low-value fares.
Mr Khan said he will lodge a further appeal in a higher court.
He was told by magistrates the suspension originally handed down in February was "proportionate and appropriate".
The council's licensing sub-committee had decided to suspend his licence after it was claimed he refused short-distance fares to two women.
Mr Khan was at the front of taxi rank on Churchill Way with his light on at 02:15 GMT on 27 February, the council said.
When the women asked if he would take them to Claude Road in Roath, a journey of approximately 1.5 miles, the witnesses told the court Mr Khan answered "not far, not far" before putting his window up and turning his back on them.
He said he was booked at the time and was waiting for a "19-year-old man who didn't turn up".
The women identified Mr Khan through his cab and registration plate and reported him to the council.
It came after the authority carried out a public campaign on the issue, following a series of sex attacks in the city centre in the autumn.
The council has urged cab users to note the details of drivers who refused short-distance fares.
But the drivers said they called the stoppage at the weekend over frustration at the way complaints against them were handled.
Mr Khan claimed the guidance had "instigated a wave of insult and abuse" against drivers.
He now has 21 days to appeal.
Cardiff council said the suspension would not be imposed until that appeal process had been completed.