Nearly 1,500 caught not wearing seatbelt in Wales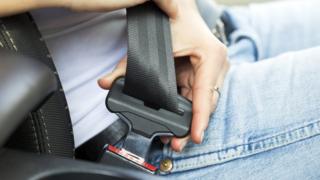 Almost 1,500 people have been caught not wearing a seatbelt during a two-week campaign across Wales.
Dyfed-Powys Police stopped the most drivers and passengers, 958, followed by South Wales Police which caught 347 people.
North Wales Police caught 146 and Gwent Police 46.
The campaign took place between 7 and 21 March to raise awareness of the dangers of not wearing them.
Sgt Alun Davies from North Wales Police said: "I want people to be aware of the devastating effect it can have and make a conscious decision not to take any chances."
During the 2015 campaign 1,257 people across Wales were stopped for not wearing a seatbelt.