Ffos-y-Fran opencast protesters aim to halt work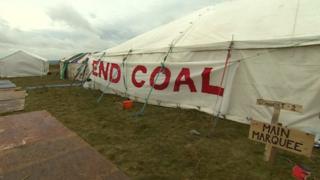 Climate activists have set up camp alongside the UK's largest opencast mine in Merthyr Tydfil.
Campaign group Reclaim the Power say they will attempt to halt operations at the Ffos-y-Fran site on Tuesday, two days before the assembly election.
Protesters want a moratorium -a suspension - on Welsh opencast mining.
Miller Argent, the company which runs Ffos-y-Fran, said it supports 230 local jobs and affordable electricity generation across the UK.
Ellen Gibson, from Reclaim the Power, claimed the mine, which has coal reserves of 11 million tonnes, had been "polluting the homes of local people and our planet for nearly a decade".
"Now we are joining them to resist coal company Miller Argent's attempts to override local democracy and force through a new mine next door," she added.
Caerphilly council rejected Miller Argent's application for a new 478-hectare (1,180-acre) opencast mine at Nant Llesg near Rhymney in August 2015. The company is appealing against the decision.
Neil Brown, managing director of Miller Argent South Wales, said: "It's a local industry, it's Welsh jobs, people don't realise we support the steel industry and we support affordable generation.
"What frustrates us as an industry is we have Conservative government policies which actually mean our generating companies are paying five times more carbon tax than they are paying Europe. This means companies like Tata are struggling against high energy prices.
"We're 65% more expensive than German wholesale prices."
The UK government said it was trying to stimulate investment in low-carbon alternatives to coal-fired power, given the need to upgrade our energy infrastructure and meet legally-binding C02 emission reduction targets.
Miller Argent said it wanted "a balanced debate" between climate change policies, which it recognised as important, and affordable generation.
The company said as well as jobs, it has provided £6m to local good causes from its community fund.
It is restoring the land back to open moorland, after the coal has been worked.
But the bank holiday weekend demonstrations are about more than a local dispute.
Those attending are urging politicians to call time on an industry that has seen something of a resurgence in south Wales in recent years.
They see it as an opportunity to move towards "renewable power, clean air and thousands of green jobs".
In 2014, opencast sites here produced well over 2.5m tonnes of coal, compared with just over 1m tonnes in 2007.
Today there are five sites in operation - there were as many as nine in the last decade - mainly fuelling Tata's steelworks in Port Talbot and Wales's largest coal-fired power station at Aberthaw.
'Flipside'
But the future is far from certain with coal prices tumbling internationally and an announcement last week that Aberthaw will take more coal from overseas in future as it downgrades its operation.
Recently an influx of cheap coal from the US, driven by the shale gas revolution there, led to the collapse of the majority of Scotland's opencast mines virtually overnight.
Prof Malcolm Prowle, from Gloucestershire University, who has spent 30 years studying the impacts of large scale industrial projects, said the issues surrounding opencast were complex.
"They do bring jobs to an area, and of course they tend to be in those parts of Wales where there's a lot of deprivation and unemployment. So not surprisingly some people are very keen on them," he said.
"The flipside of course is the impact on health with dust and noise. There are also concerns about other companies disinvesting in an area because of the visual impact of a mine."
WHERE DO THE PARTIES STAND?
Lib Dems - support a moratorium on opencast coal mining in Wales. They want to see all Wales' energy needs met through renewables by 2025.
Plaid Cymru - would oppose any new opencast developments in Wales. They want to see all Wales' energy needs met through renewables by 2035.
Greens - oppose development of opencast mines in Wales. They want to see all Wales' energy needs met through renewables by 2030.
UKIP - would want local councils to take lead in deciding whether open cast mining should be allowed in their area and retain more of the economic benefit if or when they do allow it.
Labour and the Conservatives have also been asked to comment.