Rise in ChildLine calls as GCSE and A-level exams approach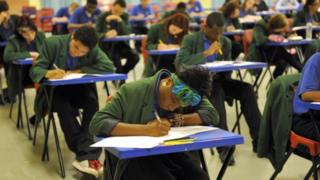 The number of crisis calls from teenagers rises as GCSE and A-level exams approach, a charity has said.
ChildLine volunteers in Prestatyn and Cardiff - its two Welsh bases - dealt with nearly 450 enquiries about exam stress last year.
Across the UK, more than 3,000 exam-related sessions were given to pupils, a rise of 9% on the previous year. Almost 24% took place in May 2015.
There was a 72% rise in website visits on the previous year, to almost 33,000.
'Pressure'
Children's charity NSPCC Wales said parental disappointment and fear of failure were some of the reasons children gave for contacting the helpline.
The charity's Des Mannion said: "As these figures reveal, the pressure to do well is being felt by an increasing number of young people.
"We hear from lots of young people each year who are anxious, worried or panicking about their exams and revision."
The charity said stress could affect sleeping patterns and trigger anxiety attacks, depression and eating disorders - and in some cases it could lead to self-harm and suicidal feelings.