North Wales to Manchester Airport train services triple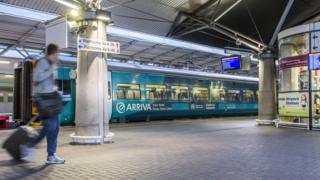 The number of train services running from north Wales to Manchester Airport each week will triple from Monday.
Arriva Trains Wales said the number will rise from 17 a week to 57.
An application to extend the existing agreement was approved by the Office of Rail and Road.
Local politicians and airport bosses welcomed the news. Wrexham MP Ian Lucas said there had a long campaign to improve the frequency of services.
"I am absolutely delighted," he said.
A Manchester Airport spokesman said: "We are supportive of any move to improve connectivity to the UK's third biggest airport and the addition of 40 direct services a week will deliver a significant boost to both leisure and business travellers."
Arriva's managing director Ian Bullock said the company was "extremely pleased" as Manchester Airport was a popular destination for people living in north Wales.