Battle of Jutland: Welsh sailors lost in World War One remembered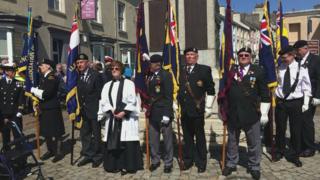 Commemorations have been taking place in Wales to mark the centenary of the Battle of Jutland which claimed 6,097 British and 2,551 German lives.
It was the only major sea battle of World War One fought near the coast of Denmark on 31 May and 1 June 1916, involving about 250 ships.
Scores of Welsh sailors took part, with every county suffering losses.
A national service of remembrance was held at Orkney, attended by the British Prime Minister and German President.
In Wales, a service was held in the port town of Holyhead on Anglesey, while another commemoration was taking place in Grangetown in Cardiff, to remember men from the Welsh capital who who died at Jutland.
According to the National Museum of the Royal Navy, among those to be killed were 13 sailors from Cardiff, 18 from Swansea and 11 from Newport.
Seven sailors from Anglesey were lost that day - three from Holyhead, two from the Amlwch area and two from the Llanfairpwll and Pentraeth area.
There was a heavy loss from Pembrokeshire, with five sailors from Milford Haven killed, another five from Pembroke Dock, three sailors from Tenby, three from Pembroke, two from Neyland and one from Haverfordwest.
One of those to be killed was 18-year-old Hugh Walsh from Holyhead. He was just one of the of 1,017 to die when the battlecruiser HMS Indefatigable went down - with just two survivors.
Many others - like stoker Richard Thomas from Amlwch on Anglesey - were on the HMS Queen Mary. Of its 1,286 crew just 20 survived the battle.