Queen's Birthday Honours: Referee Nigel Owens gets MBE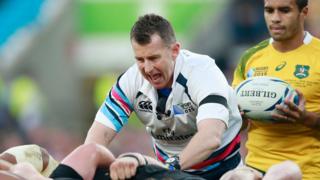 Rugby referee Nigel Owens is among the Welsh people who have been recognised in the Queen's Birthday Honours list.
The 44-year-old, who takes charge of a record 71st test match on Saturday, has been awarded an MBE for services to sport.
He said he was "very humbled and honoured" and he "would never have a year like this again".
This year's Birthday Honours coincide with the Queen's official 90th birthday.
Owens, from Mynyddcerrig, Carmarthenshire, began officiating as a teenager and quickly progressed to be a professional referee.
He made his Rugby World Cup debut in France in 2007 and took charge of the 2015 Rugby World Cup final.
The same year he was awarded the title of World Rugby's referee of the year.
Off the pitch, he is patron of the Bullies Out charity in Wales.
Speaking to BBC Wales from Fiji, he said the MBE was a "real privilege."
---
Making a difference
A volunteer who has dedicated her life to palliative care is among the other recipients.
Helen Murray from Dunvant, Swansea, has received an MBE.
She has been involved with Ty Olwen Hospice in Morriston Hospital for 40 years and chairs the Ty Olwen Trust.
"It's great to know the work I do with a fantastic team has made a difference to people," she said.
"I am now more determined to continue to drive palliative care forward so it is accessible for people who need it. I want people to know that a diagnosis is not the end.
"When someone comes up and thanks you - it makes it all worthwhile," she added.
'Over the moon'
Christopher Williams from Saundersfoot, Pembrokeshire, has been awarded a British Empire Medal for services to the Royal Mail and fundraising.
Nicknamed 'smiler', he is one of the longest serving employees at the Tenby delivery office and is a founder member of the Saundersfoot New Year's Day Swim, which has raised more than £500,000 for various charities since 1984.
"I am over the moon," he said.
"I've been with the Royal Mail for 21 years and deliver to my home village so I get to see friends and family all day long.
"I'm heavily involved in the swim and am one of only two people who hasn't missed a swim since it started.
"It really brings the community together, with a carnival atmosphere."
'Proud day'
The vice-chairman of the National Botanic Garden of Wales board of trustees, John Gwyndaf Ellis, has been awarded an OBE.
The 77-year-old, from Llanddarog, near Carmarthen, has been at the garden for more than 20 years and became a trustee in 1995 - four years before it opened.
"This is a very proud day for me. And a special one for the Botanic Garden, too.
"I very strongly believe that the garden is a product of devolution and the mark of mature nationhood and of a civilised society."
'Completely unexpected'
Lifeboat crew member Aileen Jones from Porthcawl, Bridgend county, has been recognised for her years of bravery with an MBE.
She was the first female crew member to receive a gallantry award, one of the RNLI's first female helms and the first female crew member at Porthcawl Lifeboat Station.
As a volunteer, she has completely immersed herself in supporting every aspect of the station - one of the busiest in Wales - for the past 21 years.
"I had a letter from the Cabinet Office and thought 'oh no, what have I done?' When I saw what it was, it was a huge surprise.
"I wouldn't have got this award without the support of the crew over all the years."
---
The full Welsh list of the 2016 Queen's Birthday Honours:
KNIGHTS BACHELOR
Dr David Grant, CBE for services to engineering technology and skills in the UK.
ROYAL VICTORIAN ORDER
Dr Peter Beck, Lord Lieutenant of South Glamorgan
CBE
James Brisbane for services to law and order
Peter Roger Davies for services to sustainable development in Wales
Prof Laura Jean McAllister for services to sport in Wales
Prof Peter McGuffin for services to biomedical research and psychiatric genetics
Timothy Moss for services to the economy and the community in Swansea
Lt Col Andrew Simon Tuggey for services to the Commonwealth Parliamentary Association and community in south east Wales
OBE
Clive Brooks for services to policing, particularly disaster victim identification
Leonie Catriona (Kate) Cassidy for services to communities in Wales
Margaret Hilary Dawson for services to education in Wales
John Gwyndaf Ellis for voluntary and charitable services in Wales and Lesotho
Dr Philip Antony Freedman for services to the scientific instrumentation industry and the economy in Wales
Dennis Gethin for services to Welsh rugby
Jonathan Glyn Mathias for public service and services to broadcasting in Wales
Prof Ruth Northway for services to learning disability nursing
Arwel Ellis Owen for services to social services and social care in Wales
Bernadette Elizabeth Ann Rijnenberg for services to probation
MBE
Julian Huw Baines for services to the life sciences industry
Sarah Frances Byford for voluntary services to grassland societies and rural communities
Prof Christopher Day for services to architecture and innovation
Jean Theresa Haine for humanitarian services in Madagascar
Jane Alison Hart for services to the improvement of cancer care in south east Wales
Dr Rhian Elizabeth Hayward for services to entrepreneurship in Wales
Prof Helen Louise Ann Houston for services to medical education and health services in south Wales
Kenneth Alan Jones for services to wrestling
Aileen Christine Jones for services to the RNLI
Sidney Frederick Hugh Kidwell for services to the community in Swansea
Frances Marion Lynch-Llewellyn for services to archaeology and heritage in Wales
Catrin Minshull for political service in Wales
Dr Susan Mary Mitchell for services to education in Wales
Helen Murray for voluntary services to palliative care in Swansea and Neath Port Talbot
Marcia Ody for services to higher education
Nigel Owens for services to sport
Margaret Pritchard for services to palliative care in Cardiff
Janie Wynne Smith for political and voluntary service in Denbighshire
Tania Strange for services to nursing care in south east Wales
Vin West for services to campaigning with disabled people in Wales
BEM
Caroline Ann Bovey for services to equality in the NHS in Wales
Beryl Enid Clegg for services to elderly people in Port Talbot
Hazel Maureen Davies for services to the Emlyn Flyers Swimming Club and the community in Newcastle Emlyn
Frederick Geoffrey Eckton for services to beekeeping in Wales
Kathleen Mary Evans for services to nursing in Bridgend
Pamela Mary Guy for services to music and for charitable services in Newport
Colin Hector for services to bereaved people in south east Wales
David Owen Jones for services to the community in rural west Wales
Ruth Drusilla Janette Lewis for voluntary service to first aid
David James Edmond MacKen for services to St Peters Church and the community in Swansea
Beti Mair Moyle for services to the NHS in Wales
Andrea Dawn Pridmore for services to public administration and community music through the Swansea Silver Rhythmaires marching band
John Derek Rowlands for voluntary and charitable services in Wales and abroad
Arthur Wybert Thomas for services to bell ringing and the community in Cowbridge
Christine Anne Wells-West for services to policing, particularly the NATO Summit 2014
Christopher Martyn Williams for services to Royal Mail and charitable fundraising in Saundersfoot
John Vaughan Williams for services to adults with learning disabilities in Denbighshire through the Denbigh Gateway Club
Penelope Ann Woodside for services to dietetics and the community in north Wales
QUEEN'S POLICE MEDAL
Supt Stuart Ashley Parfitt, South Wales Police
Sgt Robert Taylor, North Wales Police.
Chf Supt Alun David Thomas, Gwent Police
QUEEN'S AMBULANCE SERVICE MEDAL
Richard Lee, head of clinical services, Welsh Ambulance Services NHS Trust
Christopher Sims, head of operations (resilience and specialist operations), Welsh Ambulance Services NHS Trust