Euro 2016: No Paris stadium 'hoodoo', say Wales fans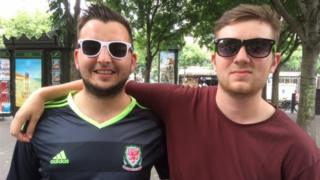 Welsh football fans have dismissed fears Paris's Parc des Princes stadium holds a hoodoo for the nation's sports teams ahead of a last-16 tie there at Euro 2016.
Wales' rugby union team lost 11 times straight at the ground between 1977 and 1997.
Chris Coleman's team will face Northern Ireland there in the second round at 17:00 BST on Saturday.
But Welsh fans in Paris said the rugby team's history at the ground "means nothing at all".
Kurt Thomas, 23, of the Swansea valleys, said: "Gareth Bale can play in any stadium."
The Parc des Princes was the home of the French rugby team from the 1970s to 1990s, with Wales enduring ritual humiliation at the hands of teams which included world-class players such as Serge Blanco and Philippe Sella.
Wales enjoyed Five Nations wins at the original venue in 1911 and 1913, but when the French rugby side made the redeveloped site their permanent home in 1975, it was a different story.
Between 1977 and 1997, Wales only tasted defeat on the Parc des Princes turf, including losses of 31-12 and 36-3 in 1989 and 1991.
But Sean Brazel, 57, of Cardiff, who also follows Welsh international rugby and is in Paris for the football, remains unconcerned.
"I didn't even give it a thought," he said.
"I can't see the footballers walking out and thinking 'well, the rugby team always loses here'."
Mr Brazel, who has been following the team throughout France, said at the moment "everyone in Wales likes football", even those usually dedicated to rugby.
It was only after the French rugby team moved to the Stade de France at the end of 1997, that Wales were able to record a victory in Paris.
They triumphed on their first visit to the new stadium in 1999 and have been victorious in four out of the nine games they have played there.
But Wales football fan, Steffan Griffiths, 24, of the Swansea valleys, also does not care if the Parc des Princes has been an unhappy hunting ground for Welsh rugby.
"It's a completely different sport," he said. "We could do something special here."
Although not now used by the French national rugby team, the Parc des Princes has been the home of football club Paris Saint-Germain since 1973.
The stadium also played a starring role in the European football championship of 1984, providing the stage for France's victory in the final, with Michel Platini helping to lift the trophy.
If Wales beat Northern Ireland there on Saturday, the team would face Hungary or Belgium in a quarter final in Lille on 1 July.
It has been suggested some 50,000 Welsh fans could pour into the French capital for the game.
But will they see the Indian sign which the stadium has had over Welsh sport lifted?
The Parc des Prince
Capacity: 48,712
Existing site first opened in 1972
Designed by Roger Tallibert
Construction: Built all in one piece from concrete
Located in the Porte de Saint-Cloud area
Fifth largest football stadium in France
'A different sport'
BBC Radio Wales presenter Gareth Lewis
"I'm not quite old enough to remember Graham Price's famous try. For me the 1980s and most of the 1990s became predictably one-sided when Wales' rugby side travelled to Parc des Princes.
"But then came a new stadium at Stade de France, Howley's try, George North's dad on the pitch. A new era.
"And this is a different sport. A Wales football squad unmoved by previous last-gasp failures.
"One team left in Wales' side of the draw will make it to a major tournament final for the first time. Why not them?
"Parc des Princes on Saturday. Stade de France [for the final] to come?"