Euro 2016: Nine Welsh football fans arrested at tournament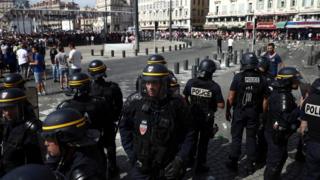 Nine football fans from Wales have been arrested at Euro 2016, a Home Office minister has confirmed.
In total, 65 supporters from the UK have been arrested in France, Mike Penning, minister for policing and fire, said.
Mr Penning said the vast majority of UK fans have been "tarnished" by a small minority.
Despite the nine arrests, the National Police Chiefs' Council said Welsh fans' behaviour has been "exemplary".
It comes as Wales gets set to take on Belgium in the quarter-final in Lille on Friday.
The early days of the football tournament saw clashes both inside and outside of the stadium - largely involving Russian and English supporters in Marseille.
Conservative frontbencher Mr Penning described it as the "most abhorrent violence" seen for many years.
Speaking during a Westminster Hall debate on football hooliganism, he said the arrests comprised 45 English, 11 Northern Irish and nine from Wales.
"Wales, a limited number - nine that let the country down - five for drunkenness, two for assault and two for possession of a flare," he said.
Welsh fans have previously been praised for their behaviour by police.
Responding to the 65 arrests, Assistant Chief Constable Mark Roberts, the National Police Chiefs' Council lead for football policing, said: "The behaviour of the Welsh fans during Euro 2016 has been exemplary with only nine arrests to date.
"We hope this will continue as the team progresses throughout the tournament.
"We have previously worked with the French police in Lille and saw a very effective safety and security operation. We look forward to replicating this ahead of Friday's game."