Rugby referee Nigel Owens gets honorary fellowship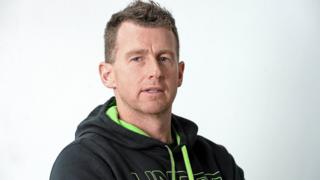 Rugby referee Nigel Owens is among the people receiving an honorary fellowship from Welsh universities this week.
Owens, Cpt Hannah Winterbourne, the Army's highest-ranking transgender soldier, and novelist Dr Sarah Waters will be honoured by Cardiff University.
Maj Gen Susan Ridge, the Army's highest-ranked woman, and former chief medical officer for Wales, Ruth Hussey, receive theirs from Bangor University.
Honours are for those with "outstanding recognition in their field".
Owens, who is from Mynyddcerrig, Carmarthenshire and began officiating as a teenager, made his Rugby World Cup debut in France in 2007 and took charge of the 2015 Rugby World Cup final.
In June, he was awarded an MBE in the Queen's Birthday Honours.
Dr Waters hails from Pembrokeshire and shot to fame after publishing her first novel, Tipping the Velvet, in 1998, which was made into a drama series for the BBC.
Prof John Hughes, vice-chancellor of Bangor University, said: "We are proud of the achievements of all our graduates and celebrate their success, especially those who will graduate this year.
"Our graduation ceremonies also provide an opportunity for us to take pride in the success of others in our community or to honour those who have a close relationship with the university."
Cardiff University
Prof Simon Gibson - Chairman of Alacrity Graduate Entrepreneurship Foundation and a professor at Swansea University School of Management
Cpt Hannah Winterbourne - Patron of the children's transgender charity Mermaids and ambassador for LGBT Sport Cymru
Stephen Bird - CEO of Global Consumer Bank at Citi, based in New York
Prof the Lord Darzi of Denham - holds the Paul Hamlyn chair of surgery at Imperial College London, the Royal Marsden Hospital and the Institute of Cancer Research
Terry Smith - Author of the bestseller Accounting for Growth. In 2010 launched his fund management business, Fundsmith, which has more than £7bn under management
Dr Sarah Waters - novelist whose work has been translated into 24 languages and have been adapted for stage and screen
Prof Emerita Dame Teresa Rees - Pro vice-chancellor at Cardiff from 2003-2010. Her research has influenced policy making in the EU, most recently on women in science and in assessing the quality of research
Nigel Owens - International rugby referee
Thomas Kielinger OBE - UK correspondent of the German newspaper Die Welt and has written biographies of the Queen and Winston Churchill
Prof Julia Downing - Palliative care nurse and researcher and an honorary professor at Makerere University, Kampala
D John Jeans - Chairman of Imanova, UK Biocentre and EM Imaging, and a director of Renishaw plc and ProMetic Ltd. Appointed by the prime minister in 2014 as life science champion
Bangor University
Rhian Huws-Williams - Chief executive of the Welsh Care Council, for contributions to social services
Dr Ruth Hussey CB OBE - Former chief medical officer
Glyn Watkin Jones - Chairman of construction company Watkin Jones & Son Ltd, which laid the foundation stone of Bangor University in 1907
Rasheed Mohammed Al Maraj - Governor of the Central Bank of Bahrain
John Meirion Morris - Sculptor who has 11 busts of famous Welsh people held at the National Library of Wales
Prof Merfyn Jones - Former vice-chancellor of Bangor University and a historian specialising in modern and contemporary Welsh history
Elin Manahan Thomas - Operatic soprano
J.O Roberts and Nia Roberts - Father and daughter for contributions to drama and broadcasting respectively
Prof John Porter - Scientist who was part of Intergovernmental Panel on Climate Changes
Prof John Wingfield - Environmental endocrinologist at the University of California