Missing cat back with Port Talbot family after eight years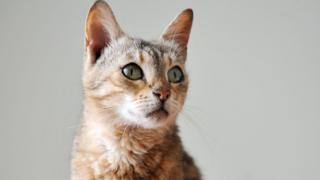 A cat which went missing for eight years is back with its family in Port Talbot after being found on an allotment 20 miles away.
Saffie, an 11-year-old tabby, vanished while owner Lisa Darney was on holiday back in 2008 and never returned through her cat flap.
Despite frantic searches for the pet, the family had given up hope of ever seeing Saffie again.
But when a cat was found in Bridgend, the microchip revealed it was her.
"When they said they had found Saffie, I couldn't believe it," said Mrs Darney.
"I just kept asking if they were sure and they said they were because they had scanned her microchip.
"They said she was a bit skinny but other than that, she was unharmed.
"It's just amazing that she survived all those years. We're over the moon about it."